This was already our second trip to the Raetikon.We made our final rock-climbing trip of the 2000 season here, topping of the year with 'Galadriel' (8-)
As the weather was supposed to be bad nearly everywhere there was no chance to do some Ice-Tours, so we settled for this area. Saturday was supposed to be the acclimatisation day, starting with 'Desu' (7) to get warm, followed by 'Sabra' (8) to make it a day. The plan for Sunday was 'Chlini' or 'Achtibahn' Unfortunately Sunday was completely rainy :-(
So at least there's a reason to come back...
Here are some nice links to more infos & topos:
Guide-Book: http://www.firstout.de/buecher/files/raetik.htm
List of Routes: http://www.firstout.de/klettern/files/routen/buend3.htm
The Team: Guenter Haas & Ulli Prinz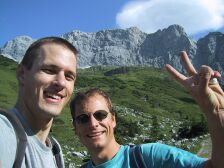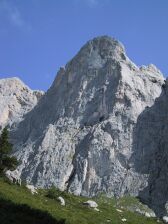 Last Years Tour: Galadriel
This years Tours:Desu & Saba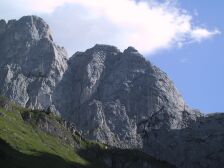 Here is some Details: Topo and Text (Panico-Guide)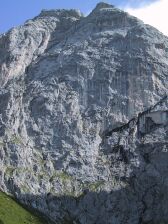 Some Details of 7.th Kirchlispitze
Desu is finished: Now a well earned Rest ...
See as Panorama:

Or as VR: Quicktime Interactive: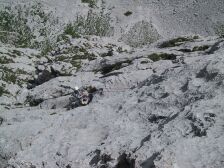 The next one: Sabra
Ulli is a little nervous ...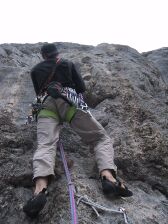 A last look back on the Drusenfluhs: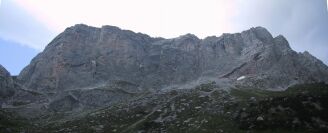 Rainy Day:Kirchlispitzen and Drusenfluh:
You can see the Overhanging Sections well (light spots)
---